Heavily outnumbered by Price Minister and Showroomprivé, the Vente-privee.com website remains at the top of this market, which has millions of followers. During 2017, France recorded 338 million visits for the leader in private sales. The numbers are pretty obvious, knowing that there are nearly 50 million French members registered with Vente-privée.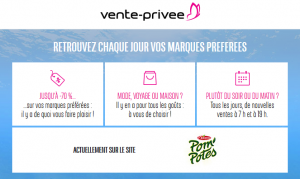 As a reminder, the concept consists of organizing sales that are strictly reserved for members and possibly their godchildren. Internet users who have access to these sales, which are limited in time, have the upper hand in terms of both quality and price. Vente-privée dedicates these events to specific brands in order to better target cyber shoppers. In other words, only Internet users interested in the sector (ready-to-wear, travel, multimedia, etc.) participate in the sale. The visits are quickly transformed into actions, i.e. concrete purchases.
Furthermore, Vente-privée is increasing its offers as the holiday season approaches, effectively meeting the needs of consumers who do not necessarily have the opportunity or desire to choose items that suit them in a physical shop.